Ace Group we supply and install a complete range of Air conditioning from leading brands including Hitachi, Daikin, Toshiba & Mitsubishi for offices, restaurants, medical halls, hospital, bars, cafes, supermarkets and private homes. Air conditioning units are available as 4 way cassettes, wall units, floor, under ceiling and multi split VRFs and can either heat during winter and/or cool during summer.
When deciding on your air conditioning unit a major consideration factory is how cost effective is your choice and how energy efficient is the system. Dramatic savings can be achieved by reduced energy consumption and this can be achieved through knowing the energy efficiency class of your air conditioning unit, if the system has inverter driven technologies, 7 day timers with kilowatt usage information and very importantly regularly service and maintenance of equipment.
In order to have correct operation of you air conditioning system it must be sized correctly and regularly maintained by a qualified air conditioning engineer.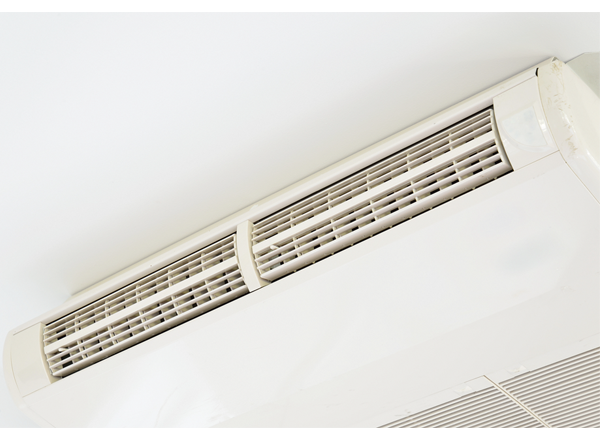 Types of air conditioning systems
4 way cassettes air conditioning 
Designed to fit above a suspended ceiling, the 4-way cassette is the most widely used solution for air conditioning applications. A slim outlet grille (30mm) allows air to be circulated in 4 directions, providing excellent air distribution throughout the room.
Floor and under ceiling air conditioning
Floor and under ceiling units provide a cooling / heating solution for rooms where no ceiling void exists. Projecting 210mm from the ceiling, this unit provides excellent air distribution, particularly in long narrow rooms where it is important to have full coverage.
Wall air conditioning
The wall mounted unit provides a neat and compact solution for most applications where a ceiling void does not exist. Wall units are slim and unobtrusive and provide excellent coverage for most office and small office or residential applications.
Ducted air conditioning
Ducted Units offer a flexible solution to providing cooled or heated air into a room – no matter what the shape of the room. Air is ducted directly into grilles which can be positioned along the perimeter of the room or throughout the ceiling grid. There are many different types of grilles available to match any requirement.
VRF air conditioning
For larger applications such as hotels and office blocks, the VRF (Variable Refrigerant Flow) system provides a wide range of indoor unit choice, superior energy efficiency and very long separation distances (up to 150M for the 2-pipe system). The VRF system allows operation of any combination of indoor units to operate from a single outdoor unit. Outdoor units can be linked together to provide more cooling and heating, therefore saving on roof space.
Air curtains 
Air curtains provide a more comfortable environment by minimizing the heat loss through the open door. Air curtains prevent up to 90% of air escaping to outside. Typical air curtains are powered by an electrical supply. Air curtains can be up to 70% more efficient than an electrically operated air curtain as they are operated using an energy efficient inverter controlled outdoor unit. Installation is simple as there are no additional valves or mechanical components required. Warranties on air conditioning equipment can be up to 5 years parts and labour depending on the manufacturers sales conditions. Please consult with one of our experience technical sale consultants to find out which air conditioning system is best for your requirements.